Bishop Gary Langley
Senior Pastor


Gary didn't follow the traditional route to the ministry. "I am a third-generation Pentecostal, but I never had any interest in becoming a preacher!" he recalls. "Growing up in Alabama, in the deep Bible-belt, my experience with preaching caused me to believe I could never be one… I almost never heard a preacher who didn't yell until I moved to Hawaii." Convinced that what he did was not preaching, Gary concentrated upon other things — graphic design, sales and dabbling with web design — while serving as a layman teacher in the church. He was pursuing his career; God was pursuing him and calling him to the Ministry.

"He finally got my attention in a big way" Langley relates. "My business venture crumbled around me; I was virtually a stranger to my wife and kids because of the hours I was working and I was just going through the motions at church — when I went." Seeing his business hopes and dreams vanish in his mid-forties, he turned his thoughts and heart toward God. He came to the realization that God had been calling him for years, but he had ignored the call. Laying aside his dreams for God's plans for his life, Gary began the process of gaining ministry credentials and joined the staff of Windward Worship Center.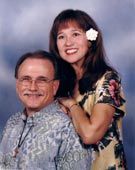 Pastor Gary has been married to his high school sweetheart Amy (Potter) since 1971. They have a son Josh (21) and a daughter Tori (18). The Langleys have enjoyed life in the Kaneohe, Hawaii community for about 24 years, and Gary has served as a Pastor at Windward Worship Center since 1995. In addition to being an Ordained Bishop in the Church of God of Prophecy, Gary holds a Certificate of Ordination from World Missions Outreach Fellowship.

Gary serves as Hawaii Overseer for the Church of God of Prophecy, and is on the Pastoral Advisory Board of Hawaiian Islands Ministries.
Use the Paypal button below to give a love offering to Pastor Gary and his family.